JSM Ward and the History of the Abbey Museum
The story of the Abbey Museum spans more than eighty years, from its beginnings in England as the Abbey Folk Park to its re-emergence as today's Abbey Museum in Caboolture. The Abbey Folk Park, Britain's first social history museum, was established by Rev. JSM Ward at New Barnet, England, in 1934.
John SM Ward with gifts donated from the Queen
John SM Ward, founder of the Abbey Museum Collection
Born in British Honduras in 1885 and later educated at Cambridge, John Ward had shown a passion for history and an interest in collecting antiquities from his childhood. In 1929, following a profound spiritual experience, he founded a utopian religious community at Hadley Abbey, near London, and established the Abbey Folk Park (1934-45), combining education with a new approach to museums.
The Abbey community arrives in Sydney, 1956
Original house on the farm in Caboolture
A pioneer of modern museology, Ward displayed artefacts in sympathetic historic settings. Dubbed by the British press as "the Man who collects Houses", he amassed 30 salvaged historic buildings at the Folk Park, in which he displayed his substantial collection of prehistoric, classical and medieval antiquities. Ward also constructed a replica prehistoric village, making him an innovator of experimental archaeology and open air museums.
In 1940, during the London Blitz, the Abbey Folk Park was forced to close; it would never reopen. In 1945 the museum buildings and the bulk of the collections were sold to finance the migration of Ward and members of his community to Cyprus where he died in 1949.
The escalation of violence against the British as Greek Cypriots campaigned for union with Greece forced the community to again relocate this time to Australia arriving in Sydney in 1956 before settling in Blackheath in the Blue Mountains. The community then moved to Queensland in 1965, establishing a farm in Caboolture.
The Abbey Museum Board of Directors
Construction completed, 1986
Ward's Museum reborn at Caboolture
In 1978 the importance of making the remaining collection available to the public saw the formation of a Museum Board and the appointment of Michael Strong (M.A. Archaeology & Heritage) as Director. A small selection of Ward's artefacts were displayed in a temporary building while funds were sought to build a permanent museum. Having secured assistance from government and public sources, particularly the Utah Foundation, construction commenced in 1983. In June 1986 the Abbey Museum of Art and Archaeology was officially opened by Sir Gordon Chalk. Then in 1999 a small manuscript gallery was added, named in honour of Professor Richard Stephens who served as Board chairman from 1993-2003.
Head to head in the Joust arena, Abbey Medieval Festival 2019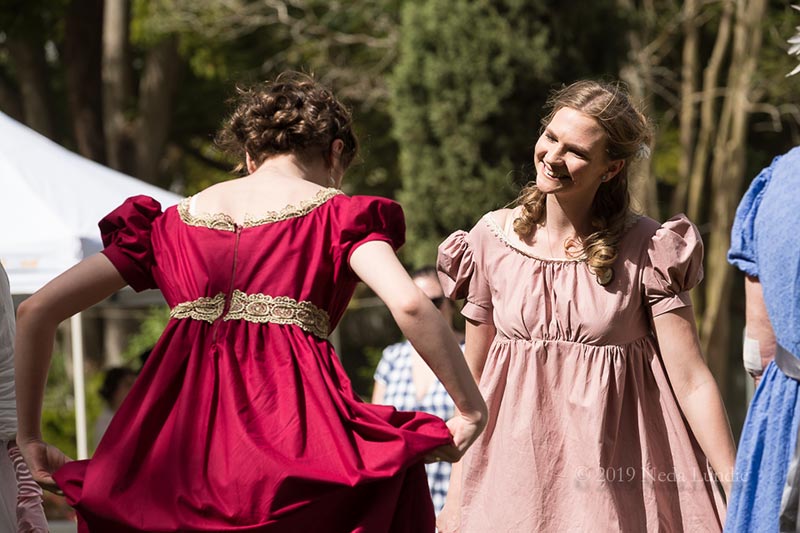 Picnic at Pemberley, 2019
Jousts, digs and Regency picnics
Not only has the breadth of the Abbey Museum collection made it unique in Australia, its public programs have provided entertainment and education to hundreds of thousands of visitors. From humble beginnings the Abbey Medieval Festival has grown to be a truly international event, attracting more than 30,000 visitors and participants in 2019. The Museum's education programs give students a unique chance to experience hands-on archaeology on recreated sites, explore the rich environmental heritage of the Moreton Bay region or learn how to mummify their classmates, Egyptian style! The Museum also hosts talks, themed family weeks and the very popular Regency event, Picnic at Pemberley.
John Ward and guests at the Abbey Folk Park, 19 June 1937
Abbey Community and guests, 26 October 2019
Taking the past into the future
The Abbey Museum is regularly developing public programs, researching and acquiring objects for display. One of the Museum's top priorities is the establishment of a permanent art gallery. The Abbey Museum boasts a magnificent collection of Old Master artworks from Medieval to Baroque periods which cannot currently be displayed due to space and conservation restraints.